DIANE Software Platform is connected directly to the HIS information systems.
Thanks to the interfacing flows, and the numerous drivers developed by our interoperability team.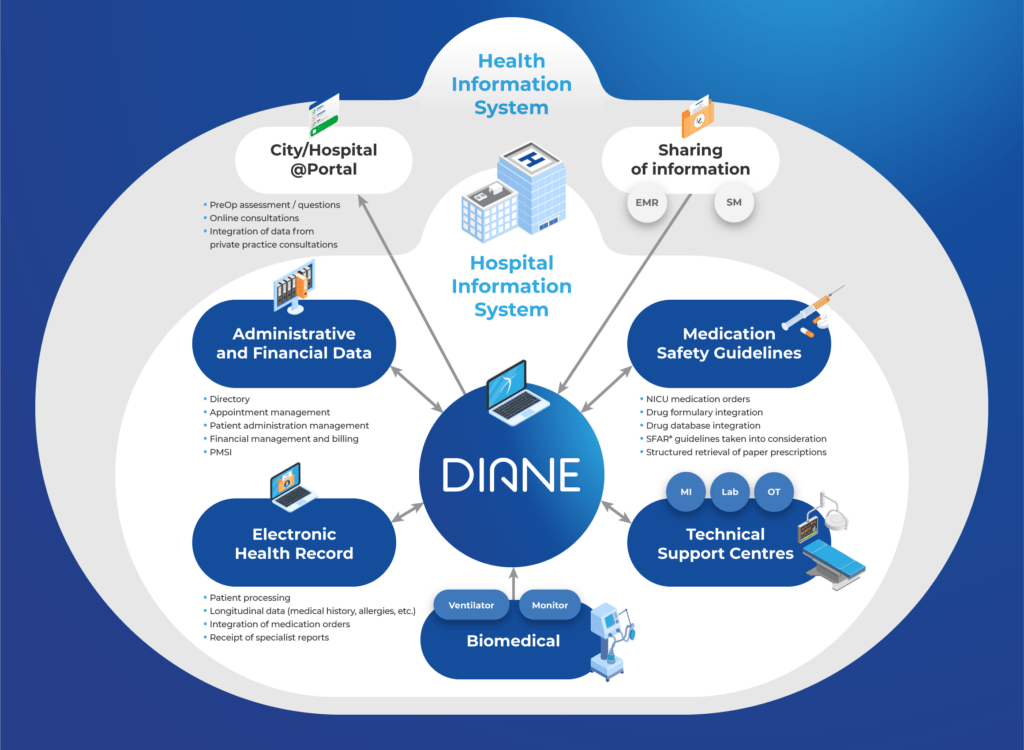 The table below gives an exhaustive view of the flows and formats managed by BOW MEDICAL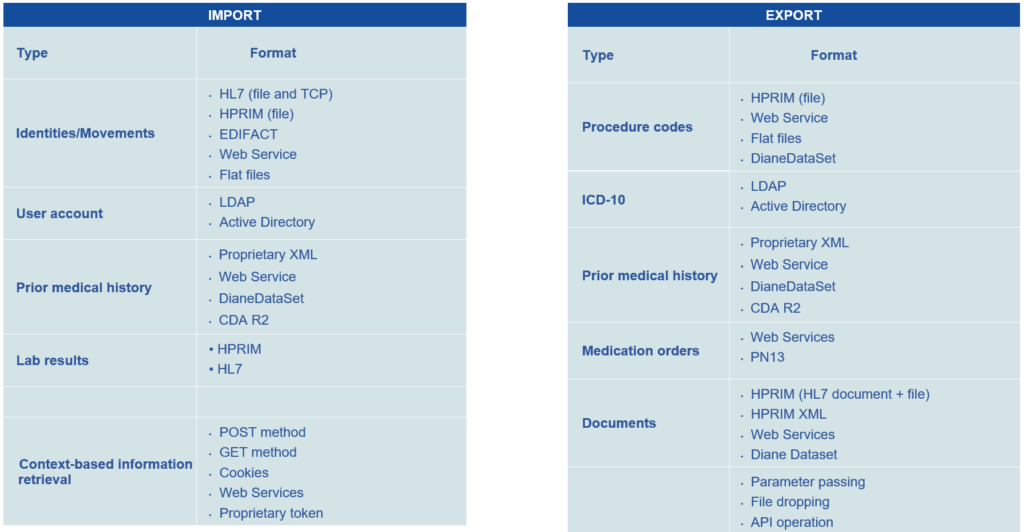 Strengths of our solution, DIANE
Ensuring the continuity of services
BOW MEDICAL includes in DIANE the elements for operational continuity in case of server failure or network anomalies.
In the event of a malfunction, the workstation switches to a local mode.
The data from the biomedical types of equipment is retrieved from the workstations. Users continue to be able to enter data into the patient file.
This operation in disconnected mode continues even after stopping and restarting the DIANE application and the workstation.
Mutualisation de la Base de données
The mutualization of the anaesthesia and intensive care database allows the optimization of the interfaces installed. This is one of the most significant advantages of DIANE, our critical care solution.
Connect and integrate your current and future and future biomedical devices into your IS
Quickly and securely feed the patient's file into DIANE
Facilitate the daily work of your nursing staff by automating the collection of physiological data and parameters of biomedical devices.
Our portfolio consists of more than 500 communication drivers, which allows you to link your equipment (central monitoring stations, patient monitors, respirators, infusion systems, anaesthesia stations, haemodialysis, etc…) to the patient's record file in DIANE.
About DIANE:
DIANE allows you to monitor and track your patients accurately.
In anaesthesia: DIANE ANAESTHESIA is installed in 2,800 operating theatres in France and abroad. DIANE ANAESTHESIA includes outpatient anaesthesia consultation and postoperative follow-up.

In intensive care: DIANE ICU offers a prescription engine and a CE-labeled care plan. DIANE ICU proposes a complete patient file for all intensive care staff retrieving data from biology, pharmacy, microbiology, etc. DIANE ICU is installed in more than 660 intensive care beds of any critical care.

For Obstetrics and Gynaecology: DIANE OB-GYN enables monitoring for mothers and children. DIANE OB-GYN covers the follow-up from the declaration of pregnancy to the postnatal period. DIANE OB-GYN provides a single file for the caregivers at all stages of the pregnancy.
For more information on the new developments of DIANE, feel free to contact us: