Manage the transfer of data during a patient's transfer.
DIANE in Version 4.9
It is possible to choose whether or not to maintain the elements of the patient's record when the latter is transferred between two units.
In the case of a transfer from the intensive care unit to the continuing care unit, it is possible to determine the elements that we would like to keep or not.
At the moment of the transfer, it is possible to fix certain data (daily evolutions, the hospitalization report…) while preserving the continuity of the rest of the file (the prescriptions, the care plan…).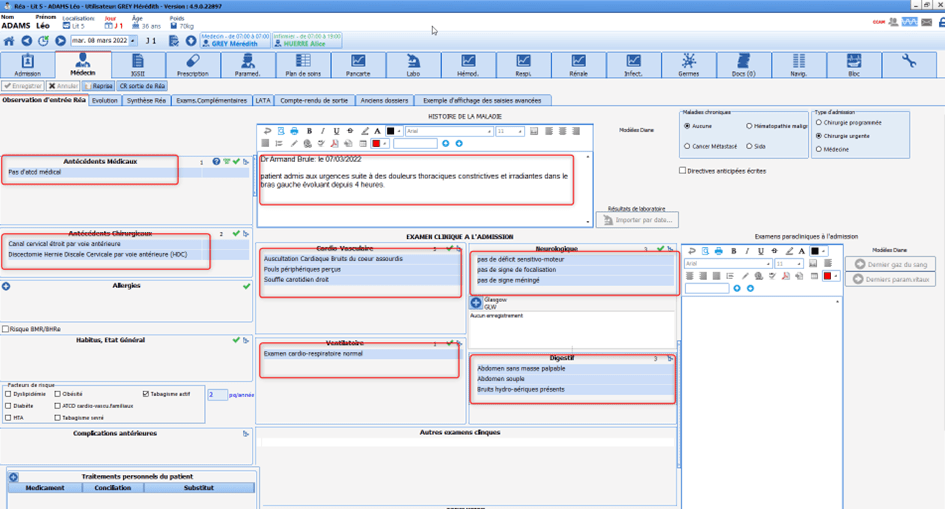 In this example, the information kept during the transfer to USC is:
Targeted transmissions
Medical Orders
The SAPS II of a stay in the intensive care unit.
When the file is transmitted, the receiving service has two options:
Return of the patient to the unit: This option allows the entire file to be retrieved, including its modifica-tions. For example, a readmission to the ICU after a stay in surgery.

The Admission of the Patient to a new department: allows applying the recovery settings from a blank page. When the file is open, the information of the components is erased.
The medical observation tab in the CCU tab retrieves the following information: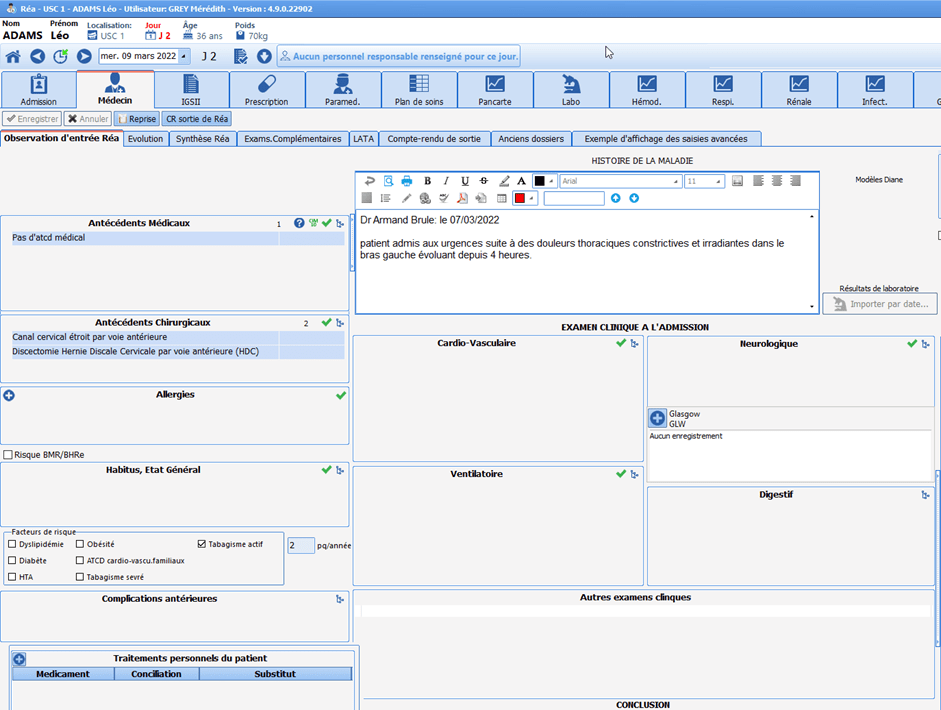 Retaining information related to the patient's background
Reset the background of illness and clinical examinations on admission
The content of the history of illness recorded in the ICU.
The follow-up of the daily evolutions allows access to the content entered at the previous unit.
SAPS II validated in the ICU will be available to be re-evaluated in the CCU.
Paramedical transmissions remain identical in the CCU
The other parts of the file are the medical orders, the care plan, transmissions, etc. Which continuity is necessary, kept, modifiable and re-evaluated.
About DIANE:
DIANE allows you to monitor and track your patients accurately.
In anaesthesia: DIANE ANAESTHESIA is installed in 2,800 operating theatres in France and abroad. DIANE ANAESTHESIA includes outpatient anaesthesia consultation and postoperative follow-up.

In intensive care: DIANE ICU offers a prescription engine and a CE-labeled care plan. DIANE ICU proposes a complete patient file for all intensive care staff retrieving data from biology, pharmacy, microbiology, etc. DIANE ICU is installed in more than 660 intensive care beds of any critical care.

For Obstetrics and Gynaecology: DIANE OB-GYN enables monitoring for mothers and children. DIANE OB-GYN covers the follow-up from the declaration of pregnancy to the postnatal period. DIANE OB-GYN provides a single file for the caregivers at all stages of the pregnancy.