The list of patients in anaesthesia
DIANE in Version 4.9
This portal allows you to display and view the files currently opened in DIANE. By default, the beds displayed are those of the unit.

To access to another unit, clicking on the blue banner allows selecting another area, room, or bed to be viewed. It is possible to access other departments and beds at any time.
A setup in the feature allows saving the sector displayed by default.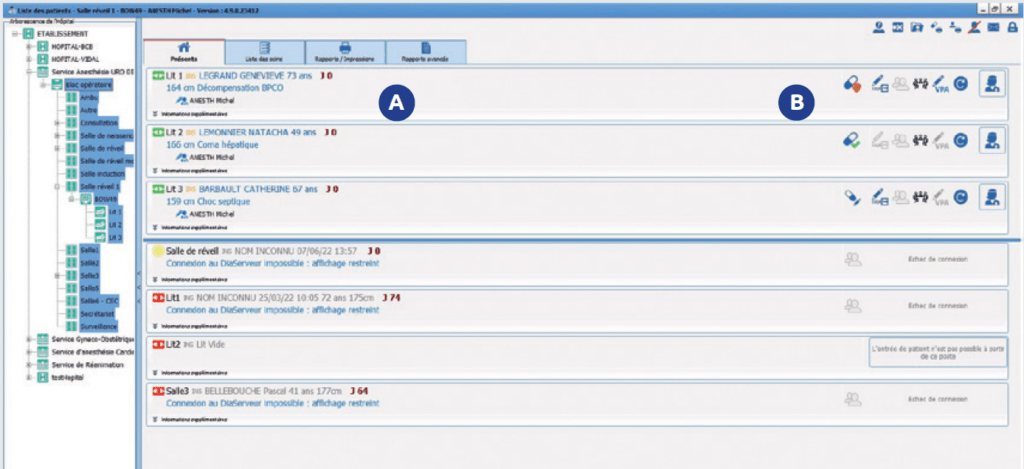 On the Anaesthesia Cockpit, one can easily find the following information :
A. Information about the patient :
Patient identification
Title of surgery
Staff in charge of the patient.
B. The status of the medical orders for the recovery room :

A newly signed medical order
A medical order in the process of being modified
Signed medical orders
The Pre-Anaesthesia Consultation signature requires the opening of the file and the exit signature. Both can be done directly from the portal.

A. The retractable part, on the left, is associated with the structured prescription tab.
B. The central part is the equivalent of a whiteboard. Information is written directly on it. These entries are not saved on the file. Example: room ready at 2 pm.
C. The right-hand side allows displaying items from the folder on the hover or via favourites. It is possible to add any type of information. For example, display the heart rate.
About DIANE:
DIANE allows you to monitor and track your patients accurately.
In anaesthesia: DIANE ANAESTHESIA is installed in 2,800 operating theatres in France and abroad. DIANE ANAESTHESIA includes outpatient anaesthesia consultation and postoperative follow-up.

In intensive care: DIANE ICU offers a prescription engine and a CE-labeled care plan. DIANE ICU proposes a complete patient file for all intensive care staff retrieving data from biology, pharmacy, microbiology, etc. DIANE ICU is installed in more than 660 intensive care beds of any critical care.

For Obstetrics and Gynaecology: DIANE OB-GYN enables monitoring for mothers and children. DIANE OB-GYN covers the follow-up from the declaration of pregnancy to the postnatal period. DIANE OB-GYN provides a single file for the caregivers at all stages of the pregnancy.