DIANE : Logiciel de Soins Critiques en Version 4.10
Enhancing access to the Pre Anaesthetic Visit


The Pre Anaesthetic Visit (PAV) becomes mobile thanks to web technology.
Because access to the Pre Anaesthetic Visit is done from the dedicated portal, the PAV can be performed from anywhere in the hospital.
The list of PAV to be performed is created from the consultation data from DIANE.

The portal allows filtering the PAV by:
Planned surgery dates,
Planned surgeon,
Planned mode of admission,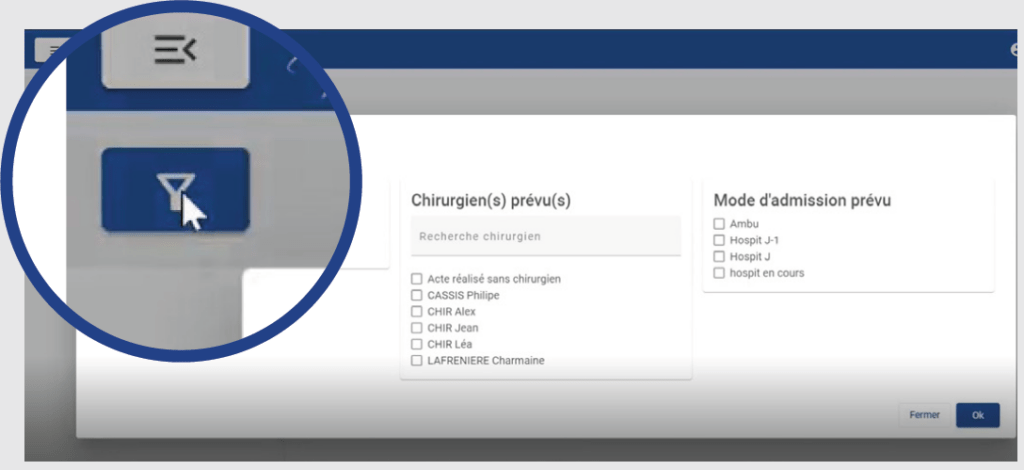 In this example, the PAV to be performed are filtered according to the planned surgeon: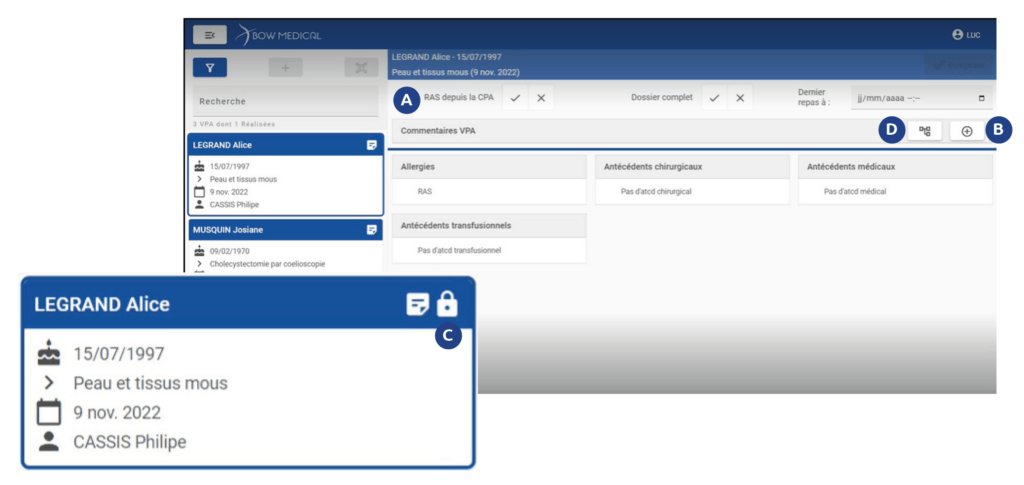 Simply click on a patient thumbnail to visualize the elements previously collected in consultation.
A. Enhance the entry of information such as "NTR from the PAC", and "Complete file" on the window reserved for the entry of the PAV

B. Easily include a text by clicking on the button

C. Add entries in the comment field. This locks the file on the workstation used. This lock is shown by a padlock icon

D. Optimize information entry via the tree icon which gives access to a list of preconfigured elements e.g.: anxious patient, biological check-up OK…

The colour of the patient label makes it easier to identify the status of the PAV:
In grey: PAV validated
In blue: PAV to be carried out
About DIANE:
DIANE allows you to monitor and track your patients accurately.
In anaesthesia: DIANE ANAESTHESIA is installed in 2,800 operating theatres in France and abroad. DIANE ANAESTHESIA includes outpatient anaesthesia consultation and postoperative follow-up.

In intensive care: DIANE ICU offers a prescription engine and a CE-labeled care plan. DIANE ICU proposes a complete patient file for all intensive care staff retrieving data from biology, pharmacy, microbiology, etc. DIANE ICU is installed in more than 660 intensive care beds of any critical care.

For Obstetrics and Gynaecology: DIANE OB-GYN enables monitoring for mothers and children. DIANE OB-GYN covers the follow-up from the declaration of pregnancy to the postnatal period. DIANE OB-GYN provides a single file for the caregivers at all stages of the pregnancy.
For more information on the new developments of DIANE, feel free to contact us: