DIANE : Logiciel de Soins Critiques en Version 4.10
Label printing
The legislation stipulates that each syringe and pouch prepared must be accompanied by formal labelling.
In a labelling system where the information is handwritten, the risks related to readability, (clarity of writing, disparity of inscriptions) increase considerably.
DIANE features a system for printing labels to identify the patient and the drug preparation included in the syringe.
Label printing is available in 3 parts of the application:
1. Printing from the "Task List" window

2. Printing from the "Medication Orders" window

3. Printing from the "Care Plan" window

All the prescriptions are displayed on the board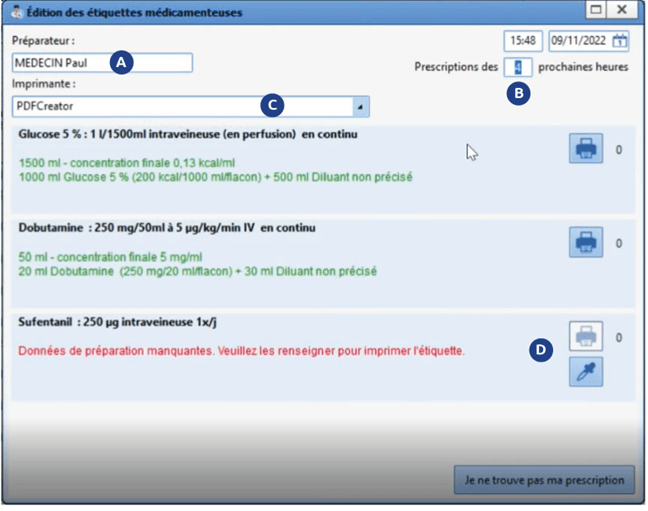 Black indicates the prescriptions
Green indicates the corresponding preparations
Red indicates an absence of information related to the preparation
A. By default, the preparer indicated on the label of the syringe will be the logged-in user. It is possible to change this information from the "Preparer" field.
Label printing rights are assigned to the following profiles:
Nurses
Anaesthetists nurses
Anaesthetists
Intensivists
Anaesthetists- Intensivists
B. Specify the period of time for displaying the prescriptions by default
C. Choose a compatible printer from the "Printer" tab to print the labels
D. Verify the number of prints already made with the number, on the right of the print icon
About DIANE:
DIANE allows you to monitor and track your patients accurately.
In anaesthesia: DIANE ANAESTHESIA is installed in 2,800 operating theatres in France and abroad. DIANE ANAESTHESIA includes outpatient anaesthesia consultation and postoperative follow-up.

In intensive care: DIANE ICU offers a prescription engine and a CE-labeled care plan. DIANE ICU proposes a complete patient file for all intensive care staff retrieving data from biology, pharmacy, microbiology, etc. DIANE ICU is installed in more than 660 intensive care beds of any critical care.

For Obstetrics and Gynaecology: DIANE OB-GYN enables monitoring for mothers and children. DIANE OB-GYN covers the follow-up from the declaration of pregnancy to the postnatal period. DIANE OB-GYN provides a single file for the caregivers at all stages of the pregnancy.
For more information on the new developments of DIANE, feel free to contact us: