Evolution of the fluid balance display
DIANE in Version 4.9
The fluid balance window is composed of different areas divided into two tabs: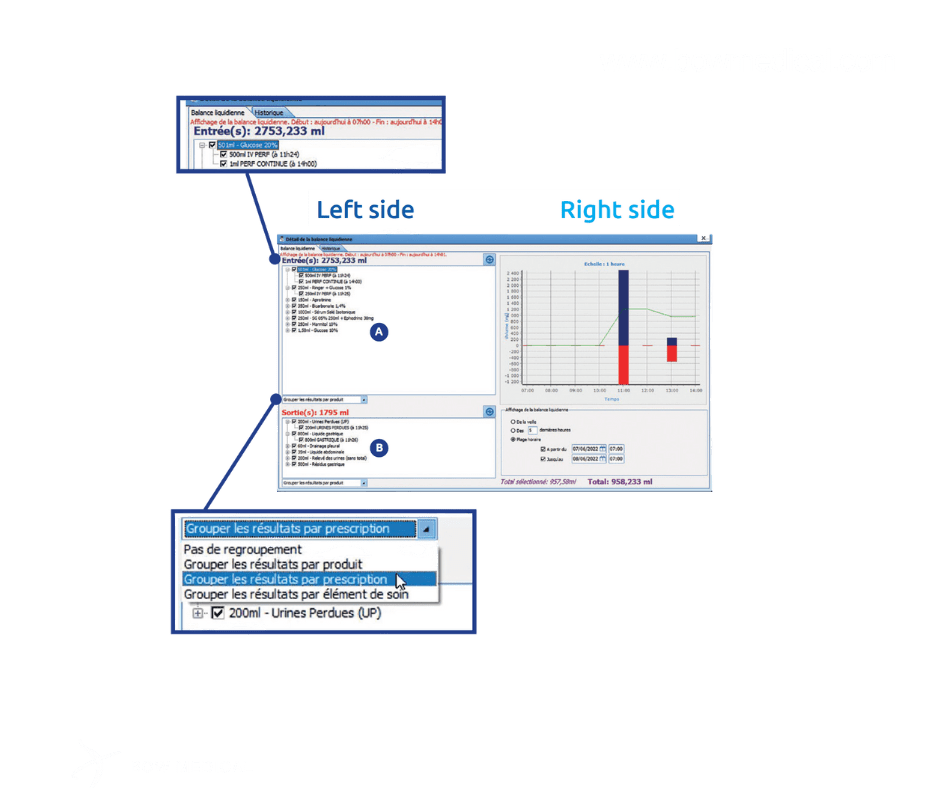 At the top of this zone, in red, is the time limits of the current fluid balance. It indicates the beginning and the end of it.
At the bottom of this area, there is also a drop-down list which allows grouping entries by product, prescription, or element of care.
The left side of the window

A. The first zone is the cumulative fluids in "entry". The volume of each fluid balance input is displayed at the beginning of the line. The details of some items are displayed below. The detail shows the day and time of the corresponding input.
B. The second zone concerns the cumulative output fluids. The output fluids and the volume of each element are at the beginning of the line. Then the details of the date and time are below. Finally, the drop-down list filters the outputs.
The right side of the window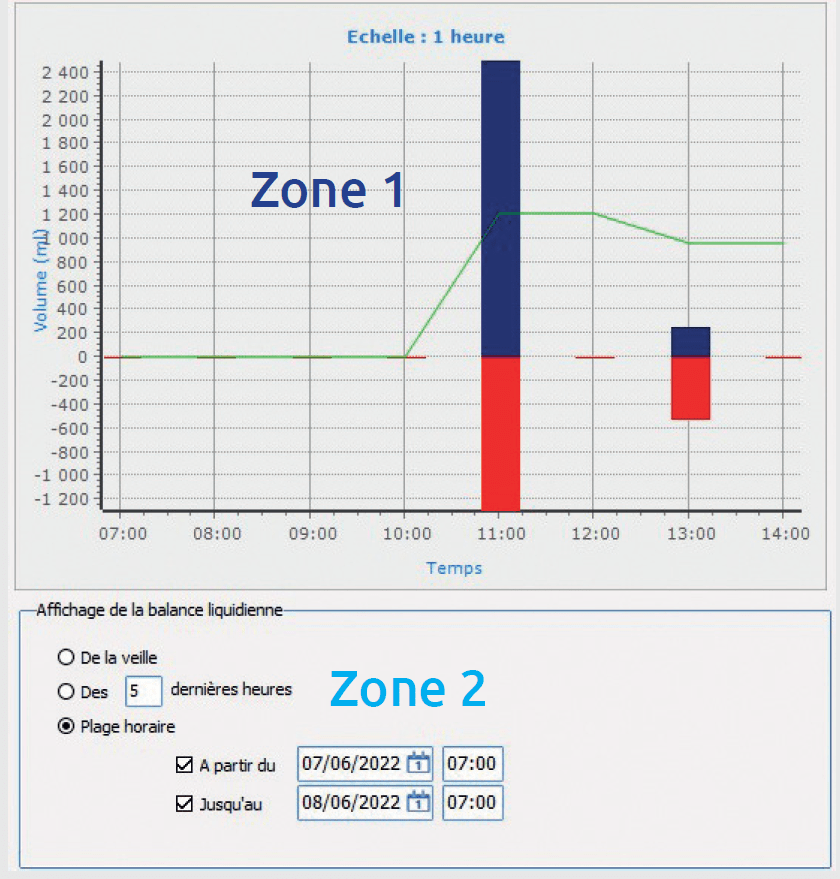 Zone 1
This graph shows the inputs in blue and the outputs in red. The green curve corresponds to the calculation of the input/output balance.
The vertical scale adjusts automatically according to the volume.
The horizontal scale is adjusted according to the number of days to be displayed.
Zone 2
Allows to configure the display of the fluid balance by:
The checkbox of the day before
Last X hours
The time slot
History tab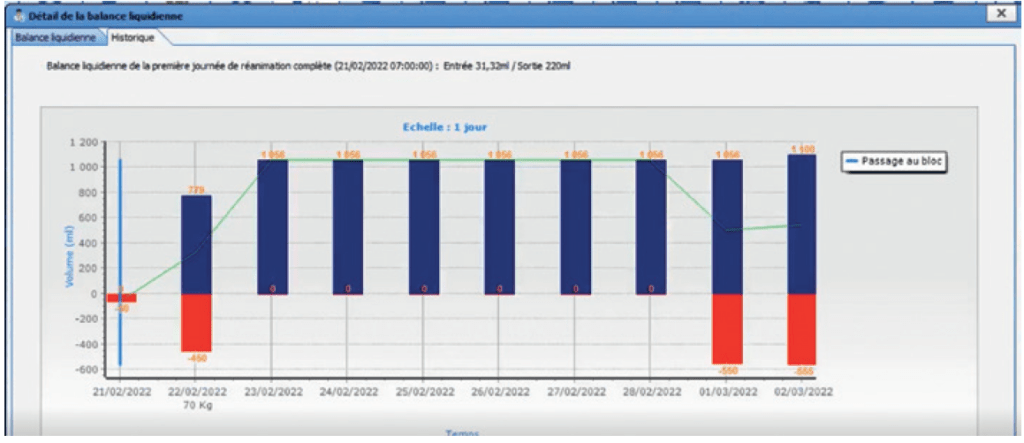 This new tab allows visualizing the record of a patient's fluid balance over a given period.
The graph shows:
In green, the curve of the total fluid balance in terms of time.
In blue, the entries of the fluid balance, with their exact volume written above.
In red, the outputs, with their exact volume written below.
On the right, the legend means a transfer to the OR. The day of the transfer is also indicated.
About DIANE:
DIANE allows you to monitor and track your patients accurately.
In anaesthesia: DIANE ANAESTHESIA is installed in 2,800 operating theatres in France and abroad. DIANE ANAESTHESIA includes outpatient anaesthesia consultation and postoperative follow-up.

In intensive care: DIANE ICU offers a prescription engine and a CE-labeled care plan. DIANE ICU proposes a complete patient file for all intensive care staff retrieving data from biology, pharmacy, microbiology, etc. DIANE ICU is installed in more than 660 intensive care beds of any critical care.

For Obstetrics and Gynaecology: DIANE OB-GYN enables monitoring for mothers and children. DIANE OB-GYN covers the follow-up from the declaration of pregnancy to the postnatal period. DIANE OB-GYN provides a single file for the caregivers at all stages of the pregnancy.