Display of the dosage on the care plan
DIANE in Version 4.9
In the prescription window, it is possible to determine treatment with a dosage in mg/h or gamma/kg/min.
Here, we wish to prescribe a syringe of concentration of 0.5 mg/h and initial administration dosage of 0.5 gamma/Kg/min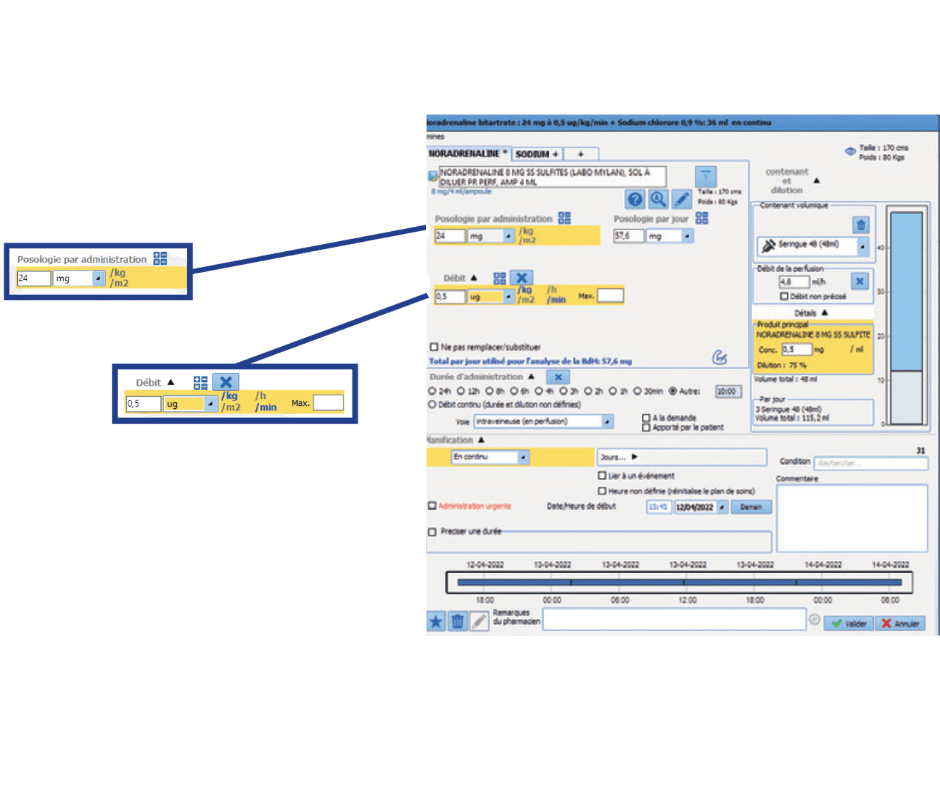 After changing the flow rate in the right part of the window, the latter is highlighted in yellow.

The display of norepinephrine done in gamma/kg/min, and the unit are shown on the care plan.
The dexdor and the flow rate are in ml/h, and the concentration appear on the care plan.
Once validated and signed off, the medical orders will appear on the care plan.

The medical order will be displayed in gamma/kg/min in the patient's care plan.

A. On the prescription tab, it is possible to adjust or modify the flow rate, to change either the dosage in gamma/ Kg/min or the administration rate in ml/hr.

B. If the prescription is in gamma/Kg/min, the flow rate can be adjusted in two areas.

C. If the prescription is in ml/hr, only the flow rate in ml/hr can be modified.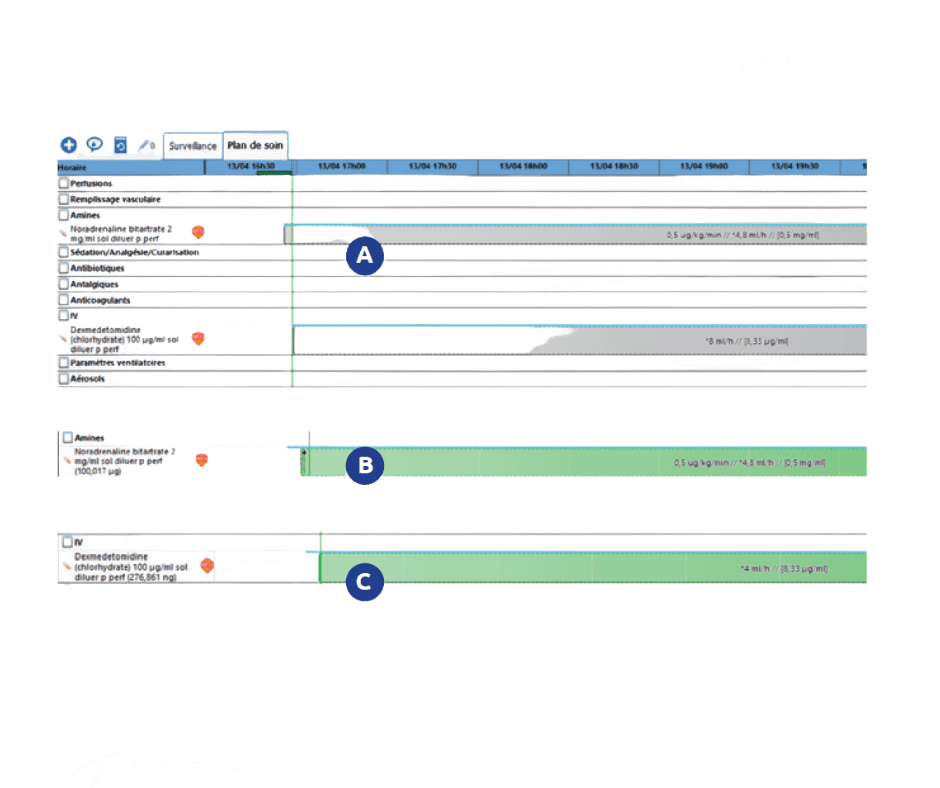 If the connected electric syringe pump is in use, the operation is the same, and the display on the administration occurrences of the care plan will respect the prescription mode.
About DIANE:
DIANE allows you to monitor and track your patients accurately.
In anaesthesia: DIANE ANAESTHESIA is installed in 2,800 operating theatres in France and abroad. DIANE ANAESTHESIA includes outpatient anaesthesia consultation and postoperative follow-up.

In intensive care: DIANE ICU offers a prescription engine and a CE-labeled care plan. DIANE ICU proposes a complete patient file for all intensive care staff retrieving data from biology, pharmacy, microbiology, etc. DIANE ICU is installed in more than 660 intensive care beds of any critical care.

For Obstetrics and Gynaecology: DIANE OB-GYN enables monitoring for mothers and children. DIANE OB-GYN covers the follow-up from the declaration of pregnancy to the postnatal period. DIANE OB-GYN provides a single file for the caregivers at all stages of the pregnancy.