Diane in version 4.8
In the new version of Diane, it is possible to access the Care List application directly from the cockpit.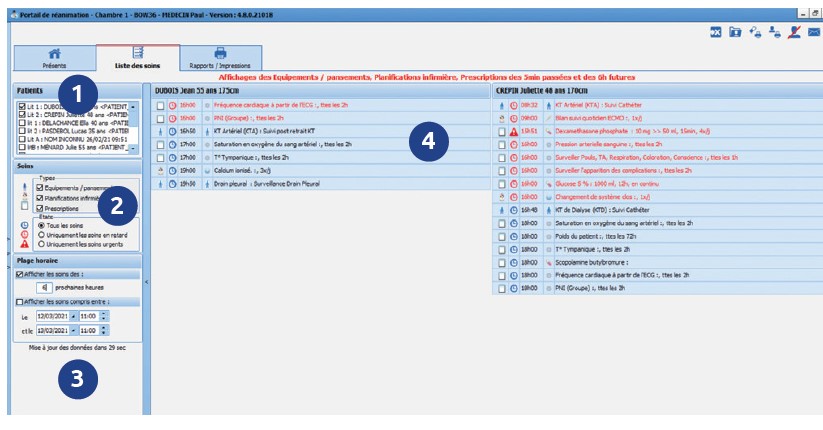 On the screenshot above, it is possible to identify 4 different areas.
With this layout, the caregivers have a better glance of the important information, in a condensate format.
Zone 1. The Patients
By default, the list of patients on the screen is the patients of the logged-in caregiver.
However, it is possible to filter the care list by different criteria.
Zone 2. Type of Care
The caregiver can choose the best suitable option for the filter, by checking the boxes of the care and/or status
Options of care:
Equipment/ Dressings
Staff Planning
Prescriptions.
Different categories of status:
Zone 3. The time slot
Two options of view are available in this tab
The specific duration of care or,
Between two dates, allowing the view of preview care, if this later took place.
Zone 4. Recurrent Care
In the case of ongoing recurrent care, the system will show the next immediate care of the day.
The icons are a new feature intended to help the caregiver a better identification and visibility of the care's environment.
Nevertheless, the person in charge of a patient cannot validate the care from this window. To do so, it is necessary to modify it from the patient's record.
A click on the care schedule will display the patient's record along with the treatment list. From this later, it is possible to validate and start the care. Once the care is validated, the system will update the colour of the icon.
Once a treatment has been started, e.g. an infusion, it will be no longer possible to modify its flow rate from the treatment list.
In case of a mistake, the caregiver can come back and modify the care.
If you would like to know more details about this feature, or from another solution for your healthcare organization, please do not hesitate to contact us. We will be happy to assist!